Apologize Verb 1 2 3, Past and Past Participle Form Tense of Apologize V1 V2 V3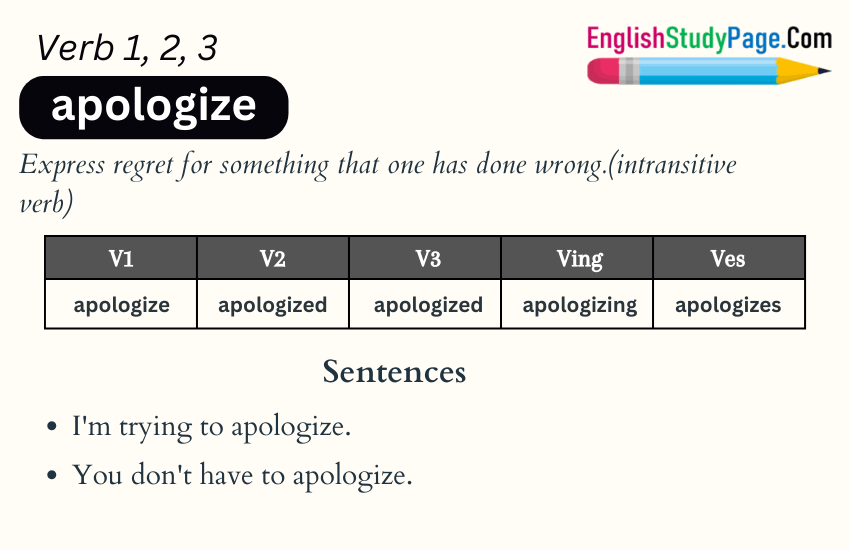 apologize
Meanings;
Express regret for something that one has done wrong.(intransitive verb)
| | | |
| --- | --- | --- |
| Verb(V1) | Past Tense(V2) | Past Participle(V3) |
| apologize | apologized | apologized |
| | |
| --- | --- |
| Verb – es(Ves) | Verb – ing(Ving) |
| apologizes | apologizing |
Synonyms
say sorry, express regret, be apologetic, make an apology, ask forgiveness, beg forgiveness, beg someone's forgiveness, ask for pardon, beg pardon, beg someone's pardon,
Example Sentences with apologize
I apologize for being late.
I apologized to my father for that.
I'll call Jessica and apologize.
I'm trying to apologize.
You don't have to apologize.
Why don't you just apologize?
Steve apologized for what he said.
I'm the one who ought to apologize.
Mark apologized to me for his rudeness.
There's no need for you to apologize.
My sister apologized for having offended him.
Do not apologize for crying. Without this emotion, we are only robots.
I apologize for anything I might have done. I was not myself.
Never apologize for how you feel. No one can control how they feel.
I apologize.
Rainbows apologize for angry skies.
Never apologize for showing feelings. When you do so, you apologize for the truth.